This is too good to not share.  The event referred to in the note took place on 4/28/18 at the Dallas Central Market on Lovers Lane.
Stephen,
You told us we would write you a love ???? letter and here it is.
We tried your BBQ sauce on the pineapple an it was delicious.  We felt your sauce had more heat and the texture was wonderful.  Then we had to try it on some pulled pork and yes we are in love.  Thank you for giving us a sample and your help in finding the other BBQ sauce.
The other sauce was good, but we both agreed your BBQ sauce was the bomb.
Thanks again and you never know might see you again at Central Market.
Alice and Rose.
Reason for the email. My husband is going to divorce me if I don't inquire about buying about a case of Full of Bull for summer barbeque. He says it is the best bbq sauce ever made and refuses to eat anything else! See what you've done! Now if we lived in
Austin, TX
or there abouts we could go to the grocery store and buy some? But here in the Northeast, not so mucha choice.
Have you put a website up yet? Can I purchase on line?
Be in touch my friend, and let me know these answers so I can save my
marriage.
Sharon P. Chapman, CMP, CMM
Travel and Corporate Events Planner
Berkshire Life Insurance Company of America
---
Steve,
First of all, WOW!!!!! My wife and I loved your BBQ sauce! You described it very well. Wow….
James
James Keaveny
Vice President of Sales,
Hunt Conference Group,Inc.
---
Hey Granny – got back from my California trip yesterday and what did my wondering eyes see but a box from my fave 'Full O Bull' friend!!! And I must say, that tee shirt is soooo right – so good I drank it!! It's almost gone – not really but it could be!! I LOVE it! Yumm-frickin-eeee!!! Love the spicey but can't wait to try the regular too!!
Thank you so much!!! I will be putting my order in very soon!
Inge Campbell (formerly Spindola)
National Account Manager
Maui Jim Sunglasses
---
3/08/10
I bought a bottle of the spicy sauce from you at the San Antonio HEB Central
Market on Sunday, right after I bought tuna steaks. The packaging and
messaging stresses it is great for smoked meat – but you're too narrowly
defining your product. I tried it on the tuna steaks and it was the best
sauce I've ever tried for tuna. You need to broaden your messaging to
reflect the versatility of your sauce. Because you've avoided making it
taste like common sauces, heavy on brown sugar and molasses, it is much more
versatile than strictly a BBQ sauce. We're going fishing at the coast this
week and next up is trying it on grilled red fish and fried trout.
Thanks for the great addition to our pantry,
Marty Heaner
---
Deanna Boyd: A friend of mine had a barbeque and used the Original Full of Bull Barbeque
sauce on the chicken and steak kabobs! Wowee wow, delish! I asked her what
she used and I had to go out right away and buy some. Now I use it at least
once a week on everything, dipping sauce for shrimp even. We had another
gathering and tried the Spicy Full of Bull Barbeque sauce poured directly on
a slab of cream cheese with pita chips and wheat thins…now this is my
favorite appetizer for parties! So easy to prepare and now it's a party must
at my house! -Deanna Boyd
---
Stephen:
We came to Central Market in
Dallas
at the Greenville Ave location on Saturday 4-24-10 (for the "
Thrill of the Grill
") and bought your spicy sauce. I came back Sunday just for another taste. On Saturday you said if I emailed you, you would send me an FOB T-shirt and that you rarely give out T-shirts!! (my cute little wife was blonde and wearing sun glasses, that's probably why!). Tried your sauce tonight on smoked
pork chops
and
holy moly
, by far, the best chops I have ever fixed EVER. I will definitely be buyng more sauce. Send me a T-shirt and I will wear it for all my buddies who love to grill. Thanks again Stephen – love your sauce. Info below.
Bradford H. Martin
7/6/2010
Steve, your original FOB sauce was a big hit at my BBQ on Sunday. I served it over Turkey Tenderloins (after grilling them with a different marinade) and skirt steak with just a rub on it before hitting the grill. The sauce was excellent on both & EVERYONE commented on how good it was. In smelling it for the first time, I thought that it would also be great on grilled jumbo shrimp. My son who douses steak in A1 sauce (yuck!) only used your FOB and loved it too. I can tell you that you will become rich if we can make the switch from A1 to FOB! (probably unlikely for all his steak, but he is learning that "unadulterated" steak is really good too). Can't wait to try the spicy & thanks again for sending. I will be placing an order shortly after we try the other to see if I want both.
Hope you had a great July 4th weekend!
Diane D. Smith
Director, Worldwide Accounts
Hyatt Hotels and Resorts
Steve:
Great to see you yesterday at Central Market in Dallas. Still can't believe I was wearing the FOB t-shirt and ran in to you!! Didn't really know what to expect when I put the FOB original sauce on my crabcakes last night, but holy moly, they were absolutely delicious. Much better than the fat laden remolaude sauce that came with them. And to tell you the truth, had a better flavor too. Seriously, I might start using the FOB sauce all the time instead of remolaude on many different kinds of seafood. Going to use the FOB spicy sauce tonight on some egg rolls, never done that before either.
When the black T-shirts come in, if you have one to spare, would love to have an extra large (I'll continue to sing your praises and be a walking billboard). Thanks again, hope to see you soon.
Bradford H. Martin
Date: Sunday, August 8, 2010, 10:51 AM
Stephen,
It was nice meeting you yesterday at Central Market and
learning about your product. I am especially excited
to bring one of the bottles of sauce to my brother in law in
Chicago. It is always a contest for us to find the
pinnacle of any product…this year I will win thanks to the
texture and flavor of your sauce. In our conversation,
you asked that I email you to request a shirt. I will
bring it to my brother in law and you can then gain a little
advertising in Chicago. He would require an XL.
Jason Wolf
8/29/10
Steve,
My name is Tim Harter and I'm the guy you spoke to yesterday about sending me a T-shirt.
Size: Large
Yesterday I purchased my third bottle of the summer and will continue to buy it. My wife and I love the flavor and the texture is unique to BBQ sauce and it's a great bonus!! I have already turned a few of my buddies onto it and they too love it.
The only compliant I have is that I can only find it at the Central Market. Do you sell it anywhere else? I love the sauce, but it's about a 15 mile trek to get it.
Thanks again and keep putting out a great product.
Tim
Hi Stephen, I know you talked and met lots of people Saturday (9-25) at the Dallas Central Market store. My Mom and I stopped to visit with you and are enjoying the sauce.
I am the woman that likes to "drink" BBQ sauce from East Texas (Linden-Kildare).
Hopefully, you remember, and yes, I want a shirt so I can advertise for you!! Black, probably XL if they are 100% cotton.
Hope your Demo went well and wish you much success. If you ever need a "taste" tester, or should I say "taste" drinker, give me a call.
Writing you from my work e-mail, so you would know I was "legit"!!
Thanks!
Sherre Hetherington
Hey, Stephen!
I hope that you had a fantastic response @ Central Market in Plano today. It definitely looked like you were selling a lot of bottles!
Considering how many people you were serving, you probably won't remember me, but I got two bottles – a spicy one for my husband and me, and an original for my BBQ lovin' nephew in Virginia. I told you that I'd be in east Texas next week, including your home town of Henderson. Sound familiar?
Anyway, you mentioned having a large size t-shirt that you might be able to send to me for my nephew. If so, please advise how much. Please send it to:
Priscilla Ahrens
Thank you for your awesome product, kind manner, and willingness to exceed expectations! Much success to you.
P. S. It will be a week before I can reply back to you since I will be in east Texas.
1/15/11
I met one of the founders at Central Market in Ft Worth. I bought a bottle
and have not regretted spending my money. I tell everyone..
I especially like that fact that you guys are from my home, Austin…
Thank you so much. I normally prepare my own BBQ sauce but when I don't ,
yours is the go to bottle…!!!
Marshall Hamilton
Buster Move Nichols says Full Of Bull BBQ Sauce is "doggone good."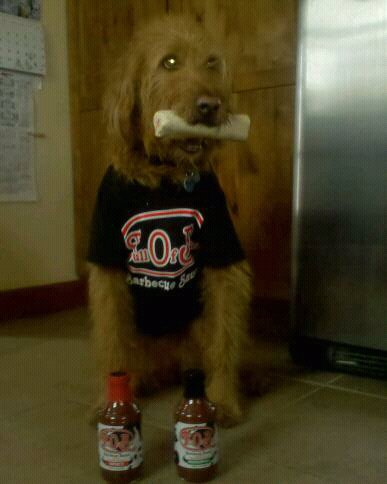 4/26/11
I absolutely loved your BBQ sauce when I had it last month from Central
Market in Dallas, TX. You were there as a local vendor. I have to know where
I can buy your sauce in the store. Can you tell me which stores in Dallas
carry your sauce? I have to make pulled pork sandwiches again tomorrow
because family is coming in, and they HAVE to try your BBQ sauce!!!
Thanks,
Annie Drain
5/25/2011
Thank you Steve. I cannot tell u how I have portioned out my FOB sauce so that I could get through the winter. I Love it on my scrambled eggs. It adds so much flavor and that little kick. Now that BBQ season is back, I will be using on my burgers. I have also added a little to my chili sauce. What a fantastic product. I would love a tee shirt, XL if you have one. Look for more orders from me in the near future.
Thanks so Much.
Ann
Ann From Dallas, PA. And, feel free to edit and use my email if you would like.
8/8/11
Hi Stephen -
I hope you remember me.
I see you quite often in Dallas at Central Market.
And I ALWAYS rave about how GREAT your BBQ sauce is.
You had given me your card a month or so ago – and told me to email you and that you would send me a FOB tee shirt.
Well you know how things go, busy at work, with the family, and life….. time got away from me.
Last week I was at Central Market telling some stranger that was studying the BBQ sauces, that yours was the best, and my husband said "you really must get that tee shirt". Then again I got busy.
Today we are making ribs – my husband pulled out the FOB Sauce and told me to get on the computer right now and send you an email.
So here I am.
The tee shirt would be great, and I would wear it. But tee shirt or no tee shirt – I will continue to spread the word of the best BBQ sauce in the USA.
I LOVE FULL OF BULL BBQ SAUCE!
Thank you – The #1 Full of Bull Fan,
Jennifer Bushor
9/16/2011
Steve Garnett,
I am however, dedicated to a BBQ sauce that is truly "good enough to drink" – I have. Based on its outstanding quality and unique blend of sweet and spicy, I have decided to send 4 bottles to avid BBQ eaters in Oklahoma. It was difficult for a Oklahoman to accept the excellence of a Texas BBQ sauce, but Full of Bull is hands down an excellent BBQ sauce:
Your BBQ sauce is an example of quality American culinary craftsmanship that we often forget exists. Thank You.
Jared R. Whittington